PATHFINDER MASTERMIND
RETREAT

Nature-Based Leadership & Intuitive Business Design for
WOMEN FOUNDERS/SMALL BUSINESS ENTREPRENEURS
JUNE 27-29, 2023
Denver, CO

As a woman in business, you lead with heart.




You have passion and vision, but it's easy to doubt yourself, given the noise and narrative that pushes traditional (and male-dominated) business approaches. Approaches related to finances, strategy, supply chain management, and marketing; tend to value profit first, often at the expense of people and the environment.
You know that something (a lot) is missing in that model, and you want to build a thriving, successful business with the compassion and vision you have as a female leader. You don't want to lose sight of the core "why" you are doing this in the first place. You want to be profitable, but not at the expense of your values and priorities.


Swimming against the tide of traditional business-as-usual can make it tough to feel resilient during the waves of opportunities and challenges that face all businesses.
You've done the skill-building, the "expert" masterminds, and the sales training that makes your stomach turn. The traditional trainings and groups have left you feeling deflated and unsure of yourself and your expansive vision for not just a successful business, but a better world because of what you are doing.


That's why I've created the Pathfinder Business & Leadership Mastermind Retreat!

Feminine leadership in life and business calls for creativity and collaboration. I invite you to join us if you crave a supportive and dynamic team and community that recognizes your mastery and helps you trust and bring your whole, dynamic and authentic self into your business vision and strategies.


During this three-day, playfully strategic retreat (and continuing mastermind group)- we will work with nature as our most powerful teacher to help you:


Step away- from the day-to-day and give yourself some sacred time to focus on your unique business purpose and vision- without the distraction of home or office dynamics.


Unlock your compelling purpose and craft your unique, sustainable roadmap for the next phase of your business growth.


Embody the powerful link between feminine leadership and leading the charge for social and environmental impact and how collaboration and community with other women accelerate the change we want to see.


Discover reliable access pathways to connect to your intuition and how to trust (and act on) what your intuition tells you - making the "hard skills" easier.


Know the relationship between your self-care and your business success and learn what really supports you in leading the way you want to lead.


Learn the secrets to navigating the inevitable changes and challenges without giving up, turning back, or hustling harder in your business.


Feel the power of collaboration with a group of like-minded women

who care deeply about their work, their family, and the world, and revel in how that connection creates lasting clarity, momentum, and joy in your business.
Your retreat overview...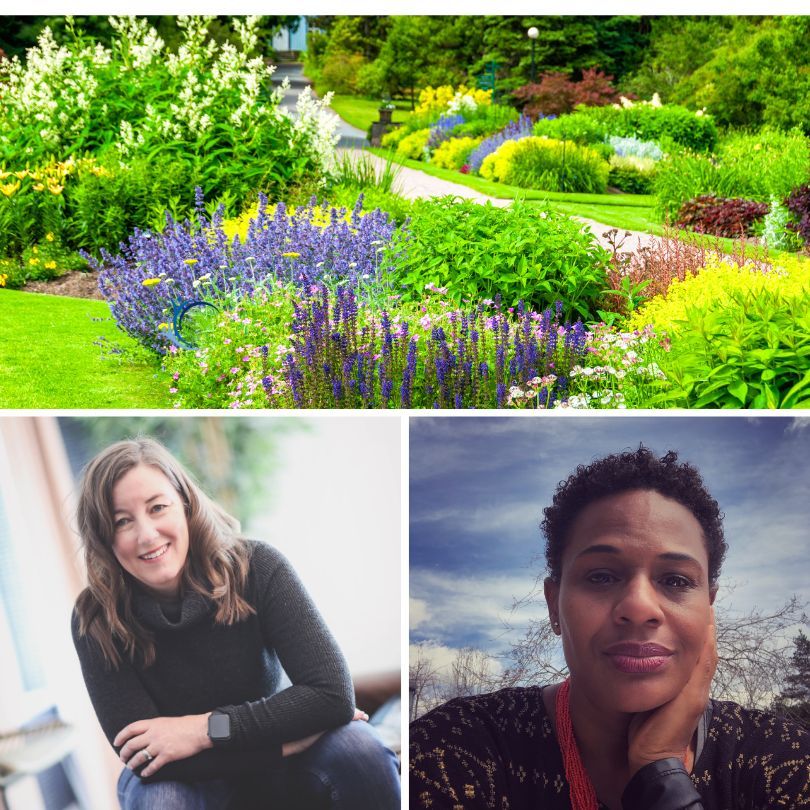 Day 1: Creating & Navigating Change
Tuesday, June 27, 2023 (all day- beginning at 9am and ending with evening activities)
We will kick off our retreat at the Denver Botanic Gardens. We will explore the nature of change and creating a positive impact at home, at work and in community through women-led entrepreneurship. Highlights of our day will include:
An interactive workshop by Taishya Adams of Mukuyu Collective who will guide us through practices designed to reimagine and realign to the wisdom of Mother Nature. Through forest bathing, art, meditation, and journaling, we will explore the intersection of identify, culture, and systems building. After the exploration, we will work individually and collaboratively to apply the lessons to our own business. Lessons that support a more diverse, equitable, and sustainable business.
A framework for mapping change cycles- how to create, manage and respond to change processes while cultivating resilience.
Practices for uncovering and deepening your connection to your core purpose and your "why" for entrepreneurship.
We will reconvene in the evening at the Flora House in Denver for a sober happy Hour, dinner and fireside chat.
Day 2: Designing Your Sustainable Business- On Your Own Terms
Wednesday, June 28, 2023 (all day- beginning at 9am and ending with evening activities)
We'll gather at the Flora House, where we will be for the duration of our day, and settle in with some mindfulness and intention setting. We will dive into principles of sustainability and develop a roadmap for your business for the next 3 months (or beyond). Highlights will include:
A conversation facilitated by Nona Jordan, Transformational Coach and Founder of the Get Right With Money Program. Nona will guide us through creating a more empowered and healthy relationship with money as a context for designing what a healthy profit looks like in your business model.
A deeper dive into mapping the ecosystems of our businesses and how we create a sense of place through our work for our clients, customers and teams.
Designing your unique path and compass points to give you the confidence to Lead the Charge for the next phase of your business development.
We will celebrate the day with another sober happy hour, charcuterie and an evening of Wild & Woo with Accidental Psychic- Willow Bradner.
Our Wednesday Evening Entertainment & Sober Happy Hour
Day 3: Art of Personal Leadership with Horses
Thursday, June 29th (9am to 4pm)
We will gather at the Flora House in morning for meditation and a grounding practice in the Art of Personal Leadership. We will then head over to Zuma Rescue Ranch for lunch and and spend the afternoon connecting with our unique leadership energy and learning from the nature of horses. Highlights include:
A guided intuitive, meditation practice with Ali Sweeney of A Light Insight to lay the groundwork for embodied personal leadership.
Join up with Nancy McKay and Stephanie Rew (Certified Equus Coaches) to uncover a practice of sustainability, modulating energy, and establishing boundaries while playing with horses.
Lessons in community building and maintaining connection through horse and herd observations.
We will complete our time together at Zuma Rescue Ranch with personal and group reflection and celebration.
About Equus Coaching
®
Equus Coaching® is an incredible opportunity to work with horses (on the ground) to facilitate more internal presence, connection, and clear communication. There is no riding involved and no experience with horses necessary.
Horses offer us an opportunity to see the truth of the present moment by providing biofeedback to what is happening right now, right in front of us. Horses bring their natural curiosity, capacity to give space and to become a willing partner, which can in turn help clients learn greater self-awareness and connection through real-time experience.
Join Us!
Hello! I'm Jen, your nature-based business coach & retreat facilitator
I'm Jen Visitacion (she/her/hers) and I have spent the past 20 years supporting leaders, organizations and businesses to design a more sustainable path forward and create positive change for our communities and our environment.
I'm passionate about helping you and other women entrepreneurs to cultivate your own unique pathways toward the changes you want to create at home and the impact you want to have on others through your work.
I'm an entrepreneur and a Business and Leadership Life , holding an MBA in Organizational and Environmental Sustainability through Antioch University New England. I'm a Certified Wayfinder Life Coach through Martha Beck, Certified Equus Coach and Master Facilitator through the Center for Equus Coaching. I'm a farmer, nurturer, and lover of nature and adventure and can't wait to explore new pathways with you!
And...
I am beyond excited to collaborate with these incredible leaders to bring you a truly unique and special retreat experience
These incredible women entrepreneurs will be joining us throughout the retreat to share their wisdom, expertise, and perspectives on leading business and life with heart. Thank you ( left to right/ top to bottom) Taiysha Adams, Nona Jordan, Willow Bradner, Ali Sweeney, Stephanie Rew & Nancy McKay! (Click on their photos to learn more).
More than ever, we need YOU and YOUR vision for your unique business to carve a pathway and lead the charge for future generations of women pathfinders.
Pathfinder Mastermind Retreats are for multi-passionate and creative women founders & entrepreneurs. Whether you are going solo or leading a team, aiming for a side-gig or to generate millions- we aim to bring together a diverse group of women who are committed to creating positive change in the world through entrepreneurship - women just like you.
Claim Your Spot!
Frequently Asked Questions
Where is this retreat located?
I am so excited to be able to introduce you to the Flora House in Denver as our home base for this retreat. This historic B&B has been transformed into the sweetest spot and is perfect for the nature of our retreat. Just blocks from the Denver Botanic Gardens, we will start off our retreat with a day in the gardens. On Thursday afternoon, we will depart the Flora House and head to Zumas Rescue Ranch for some equine assisted learning and coaching as we explore personal leadership.

How is this retreat model different than a typical business retreat?

This unique retreat model centers on the inherent intuition and leadership within each of us. Through our three days together, we will explore the nature of change, building connected relationships, leaning into money magic, and the art of personal leadership- all while crafting your own unique map for your pathway forward.
The support and camaraderie from your small cohort continues beyond our time together with personalized individual coaching, 3 months of group coaching and connection, an online community, and annual membership to Pathfinder Posse.


What does the ongoing support include after the retreat?
3 monthly group check-ins (+3 private coaching sessions with Jen Visitacion, following the retreat ).

1 year access to the Pathfinder Posse membership program and community for women entrepreneurs.
Other Questions:
Cancellation/ Refund Policy
Scholarships & Payment Plans
Daily Registration
Not able to join us for the full experience? We've opened up registration for 1 day and single event registration! See options below:
* please note these registration options do not include lodging, membership to Pathfinder Posse or follow up coaching support.
Day 1 - Creating & Navigating Change
$250
June 27
We will kick off our retreat at the Denver Botanic Gardens. We will explore the nature of change and creating a positive impact at home, at work and in community through women-led entrepreneurship.
REGISTER!
Need a bit more information?
Schedule a discovery call with Jen to see if this retreat is the right fit for you.
Schedule a Call